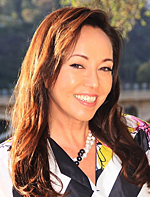 Phaedra Ledbetter
Clinical Psychologist, Licensed Marriage & Family Therapist #54623, Registered Horticultural Therapist
---
Dr. Phaedra Ledbetter is a Licensed Marriage and Family Therapist with a Doctorate in Clinical Psychology. A former infertility patient for 17 years, Dr. Ledbetter has been through countless A.R.T. (Artifical Reproductive Technology) procedures with numerous infertility doctors in Southern California for "unexplained infertility." Her doctoral dissertation is entitled "Parental Disclosure of Birth History in Gestational Surrogacy." She has been married for 22 years and has twin girls born through a gestational surrogate.
BACKGROUND
Dr. Phaedra Ledbetter is an American citizen born in Rome, Italy. She grew up in Japan and in Greece before moving to the United States to attend college, and speaks both Greek and Japanese. Her multicultural identity permeates her interests in psychology, wellness, horticulture and design.
Dr. Ledbetter is a Registered Horticultural Therapist and a Master Gardener. She utilizes nature and garden metaphors to help infertility patients envision fertility and wellness along with more traditional psychodynamic techniques. In 2000, she appeared on the NBC Morning Show when she procured over $250,000 in grants to develop and direct a Horticultural Therapy Center at Descanso Gardens in La Cañada, CA.
Dr. Ledbetter has lectured at numerous national and international conferences on Horticultural Therapy and was an adjunct faculty at UCLA. She is also a California Certified Interior Designer and a Food Stylist. She has been teaching cooking classes since 1999 at Descanso Gardens, the L.A. County Fair, and The Los Angeles Arboretum.
Dr. Ledbetter is an avid volunteer in her community, hosting numerous charity events at her home and gardens throughout the year for organizations such as Hillsides, Chandler School, The Ronald MacDonald House, Ability First, AIDS Service Center, The Gamble House, Pasadena Community Foundation, The Jr. League, Pasadena Heritage, Pacific Oaks College, The Nature Conservancy, The Shakespeare Club, and The South Pasadena Educational Foundation.
She is currently on the Board of Directors of Hillsides in Pasadena.
---