November 20, 2013
phaedra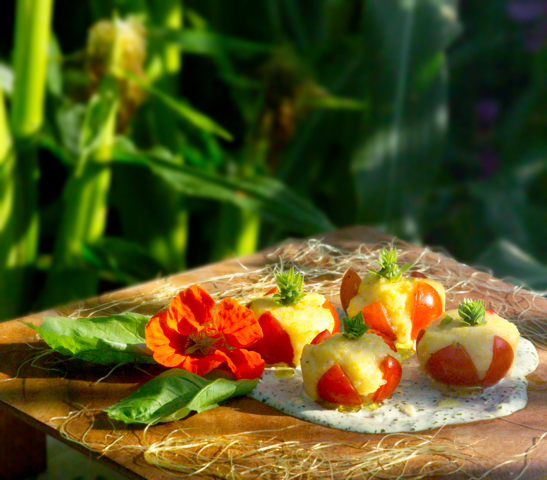 These cute little tomato balls are a delight to eat. They are dainty yet filling and so colorful. Delicious at room temperature or served cold. Makes 24 pieces.
Ingredients
Basil Mayonnaise
1-cup mayonnaise
3/4-cup basil leaves
2 garlic cloves, minced
Tomatoes
24 small cherry tomatoes, quartered
1 tbsp. olive oil
2 1/2 cups water
1 tsp. coarse kosher salt
1/2-cup (3 oz.) polenta (coarse cornmeal)
1 tbsp. unsalted butter
Directions
For the Basil Mayonnaise
Combine mayo, basil, and lemon juice in processor. Season with salt and pepper. Transfer to a small bowl, cover and refrigerate (can be made 2 days ahead)
For the Tomatoes
Spray 2 mini muffin pans (12 per pan) with non-stick oil.
Mix tomatoes, garlic, and oil in medium bowl, sprinkle with salt and pepper. Let stand 15 min. Arrange 4 tomato quarters evenly in bottom of each prepared muffin cup.
Bring 2 1/2 cups of water to boil in heavy saucepan. Gradually whisk in polenta. Reduce heat to medium and cook until polenta thickens, whisking almost constantly, about 10 min. Reduce heat to low and continue to cook until polenta is tender whisking often, about 15 min. longer. Whisk in cheese and butter. Season polenta to taste.
Spoon enough polenta into muffin cups to cover tomatoes and fill cups. Using wet fingertips, press polenta firmly to compact. Cover pans with waxed paper. Let stand until polenta is firmly set, at least 30 min and up to 2 hrs.
Cut around each tartlet to loosen Turn over muffin pans, releasing tartlets. Place basil mayonnaise on a platter; arrange the stuffed tomatoes on top. Drizzle with olive oil. Top with small basil leaves and salt.