November 22, 2013
phaedra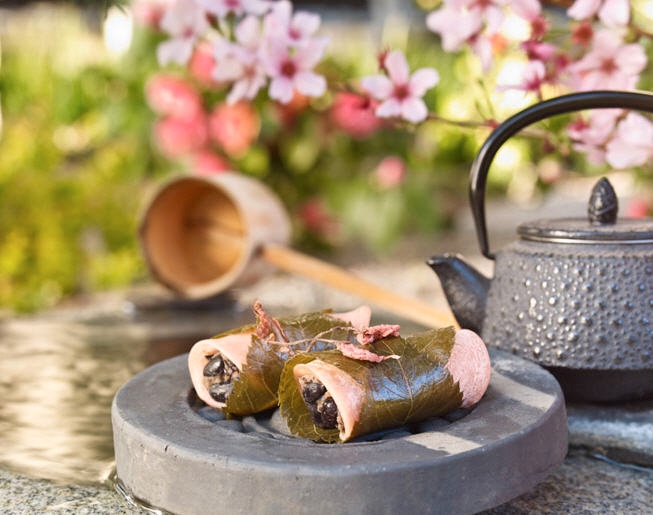 Sakura mochi is a treat to celebrate girl's day in Japan on March 3. The dainty cakes are pretty to look at and delicious. The salty leaves are a perfect match for the sweet bean paste and chewy mochi cake.
Ingredients
1/3 cup of mochiko rice flour
1 cup water
1 cup all-purpose flour
½ cup sugar
red food coloring
one cup anko (sweet red bean paste, found in Asian food markets)
cooking oil spray
Salted, picked cherry blossom leaves, rinsed and dried (Japanese market)
Directions
Mix mochiko and water until dissolved, then stir the rest of the ingredients, adding two drops of red food coloring. Batter should be pink and relatively thin. Heat frying pan to medium, spray cooking oil, wipe off with paper towel and spoon the batter, one tablespoon at a time. Spread batter into a oval shape, about 4 inches long, frying for one minute. When translucent, flip the pancake, leaving it in the pan for another minute. Do not allow to brown.
Spray pan with more oil and repeat until all batter is finished. Place1 teaspoon of bean paste in each pancake, rolling up pancake to cover the paste. Place cherry blossom leaf over the pancake. Serve with green tea.