November 20, 2013
phaedra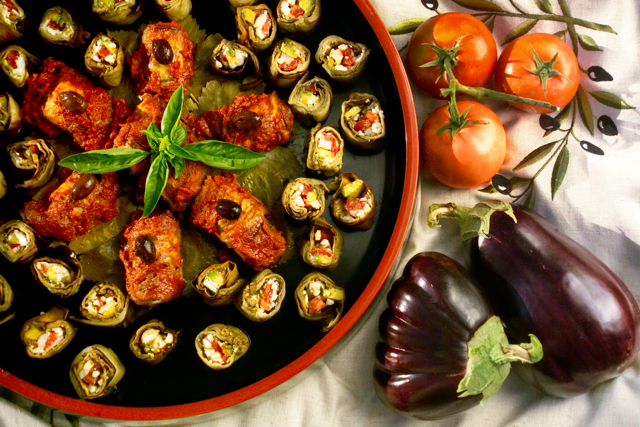 Eggplant is one of my favorite vegetables. I am always trying to think of different ways to cook it, especially in the summer when our garden swells with these purple globes. This sushi look-alike is a perfect summer appetizer. It looks just like sushi and my guests are always surprised when I tell them that it is vegetarian. The tomato looks like tuna and the feta cheese looks like rice. Fill your soy sauce dispenser with balsamic vinegar, find your favorite Japanese platter and chopsticks and surprise your guests with this homegrown sushi!
Ingredients
4 large eggplants
½ cup olive oil
2 cloves garlic
Sliced tomatoes
1 ripe avocado
Washed and dried arugula
1 cup Feta cheese, crumbled
Salt, freshly ground pepper
Balsamic vinegar
Directions
Slice eggplants into 1/4″ long slices leaving skins intact. Sprinkle both sides generously with salt and place in colander for 15 min. Preheat oven to 350 degrees F. Meanwhile, crush 2 garlic cloves and place in 1 cup of olive oil. Pat eggplant dry. Brush a large cookie sheet with olive oil. Place sliced eggplants on sheet and brush with olive oil garlic mixture. Place in oven for 10 minutes or until golden and soft. Remove from oven and flip eggplant onto other side and bake for another 10 minutes. Remove from oven, cool. Using spatula, transfer cooked eggplant onto a large flat plate.
Place 3 cooked eggplant slices in overlapping layers onto a bamboo sushi-rolling mat covered with plastic wrap. Place tomato, avocado, chicken pieces and arugula on the eggplant near the front edge of the mat closest to you, distributing each ingredient horizontally across the eggplant. Drizzle with pesto sauce and freshly ground pepper. Roll the mat, making sure that the ingredients stay inside the eggplant to form a long log. Use the mat to form the log into place if necessary. Remove the mat, keeping the plastic wrapped tightly around the log and refrigerate until ready to cut and serve. Cut the log into bit size "sushi" pieces. Remove the plastic wrap. Serve with balsamic vinegar for dipping.